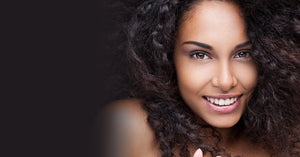 PATENTED
The only triple patented system that is based on plant-extracts + functional ingredients
FREE OF PARABENS
100% non-toxic. No parabens, sulfates, triclosans, GMO's or DEA's.

CRUELTY FREE
Our products are never tested on animals.

MADE IN THE USA
With the best ingredients sustainably sourced globally.

100% RECYCLABLE
Our bottles are 100% recyclable and made with bio-degrabable resin.
DOUBLE-BLIND CLINICALLY
tested and dermatologist recommended.
The mix of peptides, amino acids, and plant extracts infuse your scalp with ingredients to gently cleanse your hair while stabilizing your scalp's ph and awakening your hair follicle. In clinical tests, Krézinu subjects attained almost 3 times stronger thicker looking-hair in just 45 days.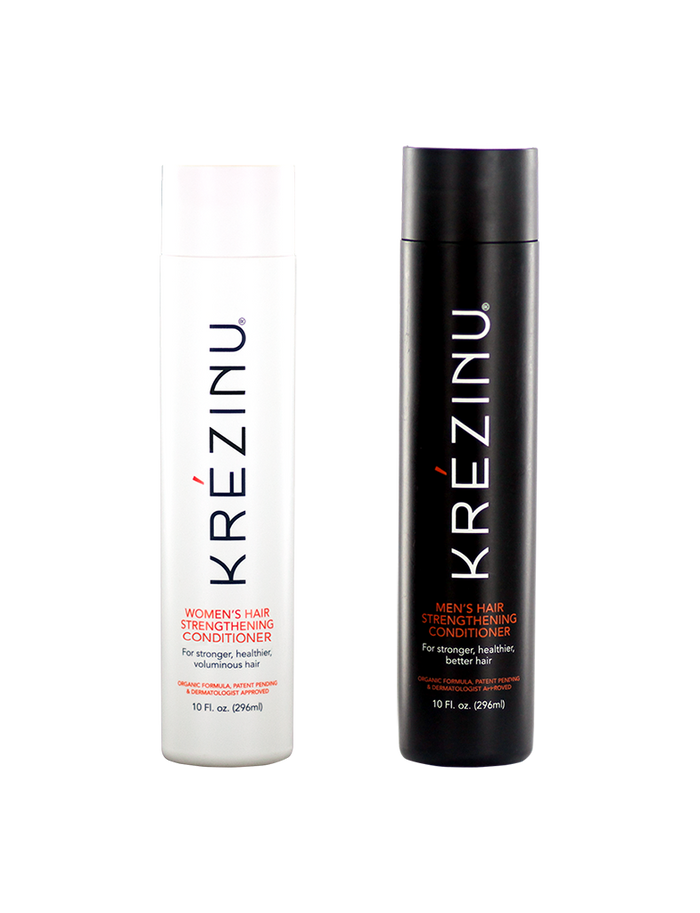 A potent, light-weight blend of hydrating ingredients add shine and manageability, enhancing volume without weighing down hair. Effectively moisturizing your scalp and hair with the essential nutrients needed for the ultimate health of your hair.
What is KRÉZINU?
A patented, dermatologist recommended, double-blind, clinically studied hair strengthening system for women and men, proven to combat hair and follicular atrophy to promote thicker, fuller, healthier, stronger looking hair and to work 2 1/2 times better than the market leader at rectifying aging hair.

Say No! to Thinning, Aging Hair.
Say Yes! to Radiant, Fuller Stronger Hair.
Who Can Use Krézinu?
All people.
We have a line for men and a line for women.
All hair types.
This unique formula was patented because of the genius in how the ingredients work on all natural hair textures.
All ages.
We know that our hair begins to derogate at 15 years old.
Find the Beautiful You, in You.
Krézinu Labs believes we are all beautiful, just the way you are. It is our job to enhance that beauty. We partner with doctors across disciplines, scientists, engineers, and real people. We take the best science and technology and combine it with practical know-how to offer products that improve your life. We simply want to find more than one option in the most natural and least toxic way possible.
Products that heal
You deserve products that stimulate, heal, nourish, strengthen, grow and restore hair without toxins. At Krézinu you become a family member, not just a user of the product, we are here to support you every step of the way.
You are Beautiful
We are firm believers in the fact that everyone is uniquely beautiful. At Krézinu, we're focused on developing effective products that help people obtain and keep stronger, fuller and healthier hair.
We believe in science, technology and innovation. We work with professionals across a multitude of disciplines to research, develop and test our products rigorously. All of our products are subject to double‑blind clinical trials and focus groups to ensure we're getting the best results possible.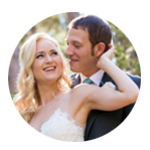 I love how much volume my hair has after using Krézinu! The conditioner is so nourishing and I love the strengthener, I notice a huge difference!
Violet - Los Angeles
Krézinu was so easy to use and the results were almost instantaneous. Thanks to Krézinu I can enjoy the Miami beaches and pool days.
Abe - Miami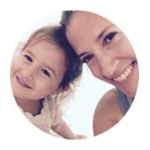 Amazing, high quality, effective product. Can't tell you enough how this shampoo improved the texture of my hair. Buy it, try it. You'll be happy you did.
Joanna - St. Petersburg
GIVING BACK
Krézinu is proud to dedicate a portion of sales to support the Susan G. Komen Foundation and its work helping patients suffering from breast cancer and advancing breast cancer research.
Learn More
Experts opinions
Nicole
Licensed Dietician & Nutritionist
Omari
Health & Fitness Expert
Latest news
Turn Up Your Volume This Winter!    Our Picks for the Best Short, Big-Volume Hairstyles Did you know?  Shorter, piecy hairstyles can amplify the appearance of fuller hair.  We talked...
---
In today's information-rich world, the power of personal testimony has become one of the strongest influencers in our lives.  More than being "told" what a...